Corporate Gifts & Private Labeling
To give the gift of caviar is to honor the recipient
Our Process
Beyond serving wonderful caviar, Paramount Caviar creates memorable experiences with our personalized gift services that embody your brand's look and feel.
Curate
Based on your budget and goals, we will work with you to design a curated caviar and gourmet food gift set. Our gift sets include caviar, gourmet foods, caviar accoutrement and accessories.
Customize
All of our corporate gifts are made with personalized elements. We'll work with you to design an entirely personalized gift based on your brand's guidelines.
Planning
Provide your gift recipients' names and addresses to ensure timely delivery. We'll work with you to decide other shipping logistics.
Packing and Shipping
Our caviar and gourmet gifts are packed freshly prior to your agreed shipment date.
Personalized Gifting All Year Long
Delicious, luxury gifting isn't limited to just the holiday season. Our gifting program is available year-round for your recipients to always enjoy.
Customizable Elements
Our team can customize any one or all of the components in your corporate gift.
Insulated Bags
Our insulated bags can be custom designed based on color, size, and with your company's logo inside or outside of the bag.
Caviar Accessories
Design beautiful, custom mother of pearl caviar accessories and / or have your company's logo engraved.
Caviar Labels
Design custom caviar labels with your brand's design guidelines. Please note, that due to traceability standards there will be a small reference to Paramount Caviar on the label.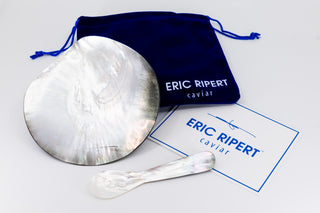 Printed Stationary
Design custom stationary depending on the purpose of the gift from holiday greeting cards, thank you notes, and more. All custom stationary is designed to coordinate with the rest of your gift.
Gift Wrap and Ribbon
Choose from our selection of wrapping paper and ribbons or design based on your design guidelines.
Frequently Asked Questions
Contact us about corporate gifts and private labeling
A member of our team will be in touch with you within 2 business days. You may also call us Monday-Friday from 9AM to 5PM EST at 718-786-7747.