Chef Curated Caviar Selections
Chef Eric Ripert Caviar Selection
Paramount Caviar is honored to be the caviar purveyor of choice to Michelin greats like Chef Eric Ripert for over 25 years. Now, you can experience the caviar served on the tables of Chef Eric Ripert's Le Bernardin - the world's best restaurant by La Liste 2023 at home.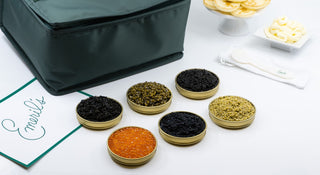 Chef Emeril Lagasse Caviar Collection
Let's 'Kick it Up a Notch' with Chef Lagasse's caviar that is served in all of his restaurants nationwide. For every purchase, Paramount Caviar will make a donation to the Emeril Lagasse Foundation to continue its mission in building up the next generation of culinarians.
Quality and Authenticity
IMPORTATION POLICY
Imported Caviar
All of our imported caviar is sustainably farm raised from around the world and is imported with CITES certificates. Paramount Caviar partners with sturgeon farms that prioritize sustainability and high adherence to the home country's and the United States' regulations around sturgeon farming.
In accordance with US federal law, Paramount Caviar does not import any wild caviar from any country. We do not supply caviar from Iran nor Russia due to federal regulations.
A DEDICATION TO CRAFT
A 'Science First' Approach
Our imported caviar comes from sturgeons that are sustainably farm raised under high-end aquaculture processes. We also partner with some of the world's foremost caviar masters and sturgeon marine biologists to procure the highest quality caviar.
MICHELIN STAR QUALITY
Quality for All
We focus on procuring the highest quality caviar within its species as well as providing a variety of caviar based on flavor profiles, color, and texture. We only sell the single highest or top two highest grades of a given caviar species. The quality of the caviar you receive at home is the same quality that is served at our Michelin Star and high-end luxury hospitality group clients.