Our Story
In 1991, we started Paramount Caviar in pursuit of providing the highest quality caviar to the most discerning palates. Over the years, our caviar has been experienced in the country's most high-end restaurants and hotels, and now in the comfort of your home. No matter where you are or what the occasion is, caviar should be a celebrated experience. We are honored to serve you and to be a part of your memories.
Caspian Heritage
Our story begins with our founder's, Hossein Aimani's, upringing in Iran's Caspian Sea region. It was on the shores of the Caspian Sea that Hossein saw sturgeons be caught and caviar be harvested to be sold in local markets. Growing up, Hossein fondly remembers many family celebrations with Iranian caviar being served on freshly toasted bread and traditional Iranian tea.
As Seen In:

Caviar for Retail Purchase
We invite retail consumers to order caviar from us online or in our Long Island City showroom. Our caviar is freshly packed per order with no preservatives.
Caviar for Wholesale
As the choice of great chefs everywhere, we have partnered with chefs, seafood distributors, luxury hospitality groups, and caterers to have our caviar on their menus.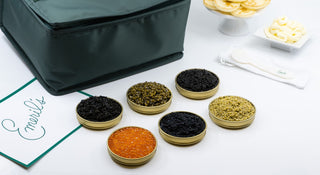 Corporate Gift Offerings
To give the gift of caviar is to honor the recipient. Many organizations have gifted our custom designed caviar gifts or have arranged for virtual caviar tastings for their staff members or clients. We provide private labeling services so your gifts are presented with your organization's branding.
Caviar Tastings
Our passion for caviar comes through in the caviar itself and in our love of educating consumers and restaurant industry professionals. We offer in person caviar tastings in our Caviar Vault in Long Island City or virtual caviar tastings over Zoom. In Person caviar tastings at your location are available upon request.
Contact Us
If you are interested in any of our offerings or have questions, please feel free to fill out this form below. A member of our team will get back to you within 2 business days.
Importation Disclaimer
All of our imported caviar is sustainably farm raised from around the world and is imported with CITES certificates. Paramount Caviar partners with sturgeon farms that prioritize sustainability and high adherence to the home country's and the United States' regulations around sturgeon farming. In accordance with US federal law, Paramount Caviar does not import any wild caviar from any country.